Placing business
At Landbay we keep things simple and transparent, you'll know where you are every step of the way.
5 days
legal correspondence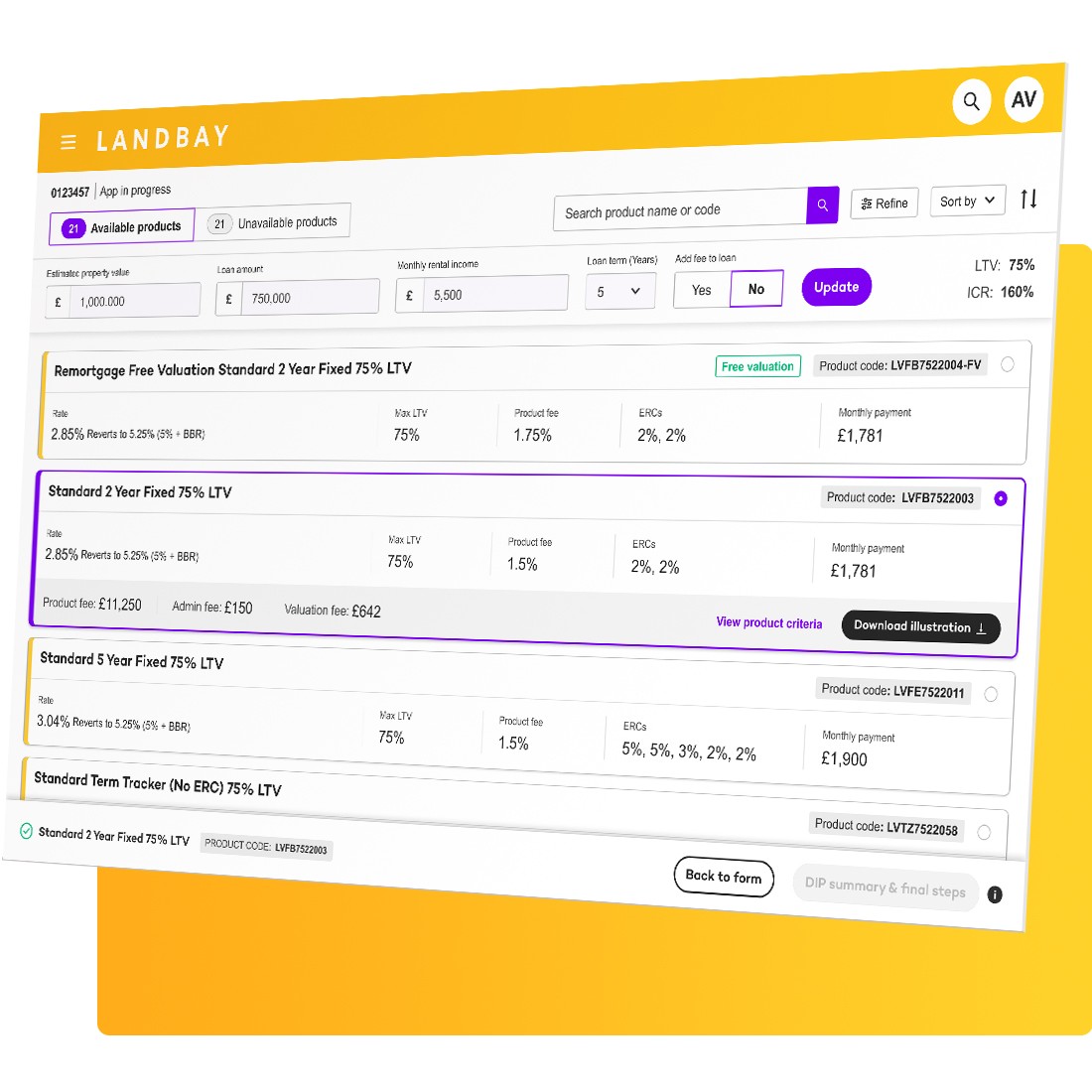 Our portal was designed by brokers, for brokers
Easy to use

Simple login and intuitive account management means you get what you need, fast. And our smart filtering means you can find exactly the product you need, the moment you need it.

Totally transparent

Whatever we know, you do too. So if a product isn't available, you'll always know why. And once your case is submitted, our portal gives you complete visibility.

Faster responses

At Landbay, we never waste your time. Our form-filling is as efficient as possible, with no unnecessary questions and a rapid response to any application.
Register as a broker
Our application process
Submitting a case with Landbay is easy. Our portal is 100% online, getting you from DIP to completion, paper-free.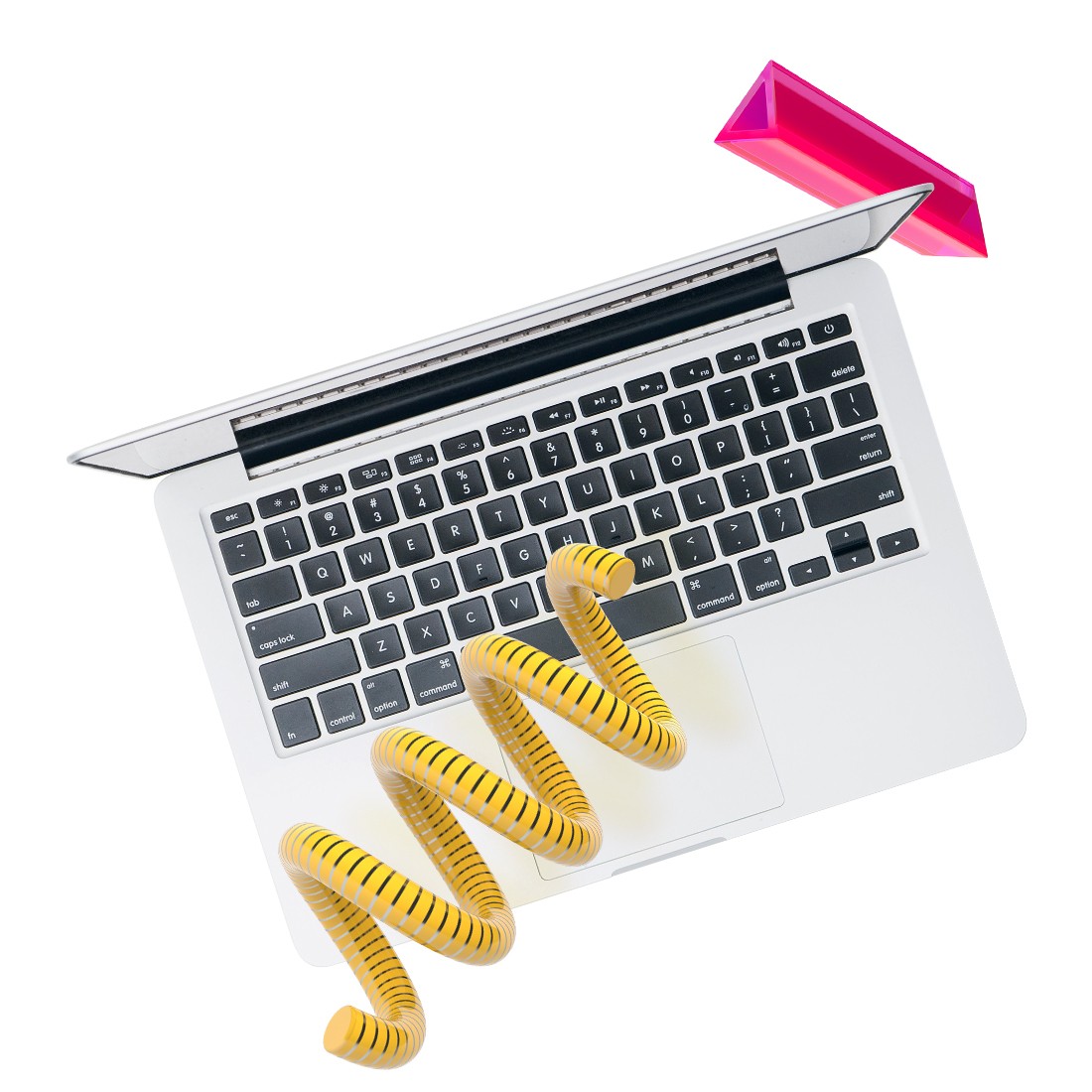 A DIP in 2 minutes

Our simple, intuitive application process gets you a real-time decision you can count on.

From a DIP to a full mortgage application

Once your DIP has been approved, you can download your illustration and convert your DIP to an FMA

Confirmation from the borrower

Once your application has been completed, your client approves their application with a simple email request.

Valuation and administration

Decide how you want to instruct for the valuation, then pay your admin fees and choose whether to pay for the valuation upfront.

Underwrite the application

Once we've received your payment, our underwriting team reviews your application. At this stage, you can pick up the phone and speak directly to our underwriters. Once everyone is happy, the valuation will be instructed.

Offer made

Once you have received the offer, solicitors can be instructed and conveyancing can take place.

Transfer of funds

Once the conveyancing is done, the funds can be transferred and the deal is complete!
Frequently asked questions
How do your valuations work?

Where the valuer confirms that specialist reports are required Landbay will require the applicant to arrange the reports which will be sent to the valuer for comment. Please note that the specialist reports must be completed by the recognised contractors identified by Landbay or the surveyor.

No monies will be released until essential repairs have been undertaken. Upon completion of the works, the original valuer will be required to re-inspect the property to confirm its suitability for mortgage purposes and provide a revised valuation figure where applicable.

Valuations are usually valid for 90 days with the ability to extend to 180 days.

What is the minimum property value?

The minimum property value starts from £65,000 for single self-contained units. Please see below for more information about our borrowing criteria. Full details can be found here.

Single self-contained units – £65,000
HMOs and MUFBs – £120,000
HMOs in qualifying postcodes – £75,000
(BB, BD, CA, CW, DH, DL, FY, HD, HX, L, LA, M, NE, OL, PR, SK, TS, WA, WF, WN, YO

What is you maximum loan size?

We currently loan up to £2,000,000 per property with a max LTV of 70%.

Please see our LTV guide for other loan sizes.

What are the rules for your ICRs?

Click here for our full ICR rules.

What properties do you exclude?

Properties with low demand as a result of location/ condition/ maintenance
New build properties that benefit from a Rental Guarantee incentive.
Properties with Local Authority approval for uses other than residential
Normally Ex Local Authority apartments. This is the case where most units are still being used for social housing
Non-traditional construction e.g. timber frame, concrete or any designated defective under the housing act
Converted properties where the applicant is resident in a different unit in the building
Properties that are subject to any restrictions (occupancy/use/ resale), e.g. Agricultural restrictions
Properties subject to adverse notices, mineral extraction, contaminated land, landfill, mining subsidence. Also, properties with Japanese Knotweed excluded
Properties located adjacent to an electrical sub-station (small substations will be acceptable subject to valuer's comments) or communication mast or within 100m of overhead high voltage cables/ pylons
Properties held in Trust
Right to buy scheme or subject to a pre-emption clause
Properties that are, or have been shared ownership
Built within the last 10 years without an NHBC certificate or other guarantee acceptable to us
Properties with solar panels which are subject to a lease agreement
Properties that are adjacent to commercial premises that could materially impact marketability, e.g. Pubs, takeaways and petrol stations. Properties being purchased at under market value
Properties being purchased at under market value
Grade I & Grade II listed properties
Properties that have cladding and do not have an acceptable cladding fire test certificate
Flying freehold greater than 15% of the total property area
Freehold Flats
Ex-local authority properties with deck access
New Build Flats where the ground rent exceeds 0.10% of the property value
Properties liable to flooding
Properties with non-standard insurance terms
New build properties that do not meet EWS1 grade A1 standard

NB – Purchases involving property clubs or syndicates are excluded.
NB – Properties that include rental guarantees. (this also includes developments as a whole)
Our partners
We can work with brokers directly or with all major networks, clubs and packagers including the NACFB.